Course details
16 kinds of all-you-can-eat pizza ♪ Girls' Association course ★ Toroburi cheese fondue is also eaten with all you can drink 120 minutes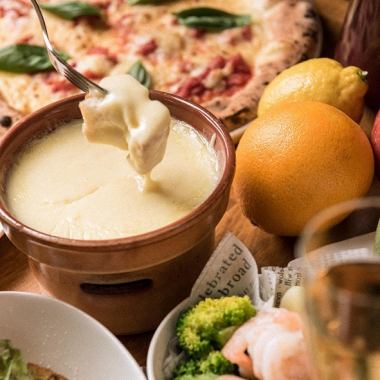 3500 yen
120 minutes with all-you-can drink
All-you-can-drink available

120 minutes with all you can drink ♪
Reservation deadline

Visit of hope the day before until 22:00
Available days for reservation

Tuesday, Sunday, Public Holiday, Holidays
All girls authentic authentic Napoli pizza all-you-can-eat ♪ All-you-can-eat ♪ All-you-can-eat ♪ Appetizer assortment is a gorgeous packed wishes of women who want to eat variously, such as seven luxurious seasonal varieties and pasta to choose.All you can drink as much as 120 minutes relaxed ★ You can also eat cheese fondue and bagnacauder only for girls' association course ♪
Course menu
● Assorted seven appetizers
·roast beef
· Avocado and smoked salmon tartar
Of Fresh Tomato Caprese
·potato salad
· Canapé of raw ham and mascarpone
- Fresh fish carpaccio
· Bite pinchos
● Cheese Fondue or Bagna Cowder or Caesar Salad
● French fries
All you can eat 16 kinds of pizza (90 minutes)
● Pasta to choose from the grand menu
● homemade catarana
All 12 dishes
※ Because we have an all-you-can-eat course assuming 2 to 6 people, please be forewarned that it may take time to offer pizza when it comes to more people.
※ The purchase situation there is the case that the contents are subject to change.
※ The time of your seat is two and a half hours.
* Male customers are available at +500.
※ I am asking for reservations up to the previous day.
♪ to birthday-anniversary
Reservations for cake 2200 yen to desert plate 1380 yen are also accepted.
All-you-can-drink menu
Beer, highball
· 【Beer】 Sapporo Beer Pitcher 【High Ball】 High Ball (Soda Bunko)
· Shochu · Shochu · Plum wine
· 【Shochu】 Original shochu (potato / wheat) 【shochu】 lemon / white peach / blue apple / giant peak / lime / pomegranate / Calpis / oolong / green tea / cola 【plum wine】 original plum wine
·wine
· 【Wine】 Glass wine (red · white) / Sparkling
·Cocktail
· Moscow Commander / Screwdriver / Salty Dog / Big Apple / Big Pine / Rum Coke / Boston Cooler / Paraiso Orange / Paraiso Grapefruit
·Cocktail
· Paraiso pine / cassis soda / cassis orange / cassis grapefruit / cassis pine / cassis oolong / gin tonic / gym bag / sapphire cooler / tequila sunrise
·Cocktail
Diablo / Peach Fizz / Fuzzy Navel / Peach Oolong / Campari Soda / Campari Orange / Campari Gureful / Green Tea Milk / Blueberry Milk / Kalua Milk
· Non'aru cocktail
· Saratoga Cooler / Shirley Temple / Cablegram / Cinderella / Apple Phrasele / Pomegranate Gref / Peach Soda / Peach Orange / Aloe Soda / Strawberry Milk / Matcha Milk
·Soft drink
Oolong tea / black oolong tea / green tea / jasmine / orange / apple / gureful / pine / mango / ginger / calpis / calpis soda / cranberry / cola / coffee / cafe au lait / tea
2018/08/05 update